Clothes Moth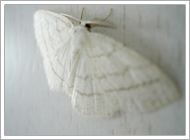 The Clothing Moth (Tineola bisselliella) is a species of moths from the Tineidae moth family. The caterpillar (larva) of this moth is recognized as a serious pest. It can derive nourishment not only from clothing – in particular wool – and also, like most moth caterpillars, from many other sources.
The Development Cycle of the Clothing Moth. Eggs hatch into larvae, which then begin to feed. Once they get their fill, they pupate and undergo metamorphosis to emerge as adults. Adults do not eat: male adults look for females and adult females look for places to lay eggs. Once their job is done, they die. Contrary to what most people believe, adult clothing moths do not eat or cause any damage to clothing or fabric. It is the larvae which are solely responsible for this, spending their entire time eating and foraging for food.
Both adults and larvae prefer low light conditions. Whereas most other moths are drawn to light, clothing moths seem to prefer dim or dark areas. If larvae find themselves in a well-lit room, they will try to relocate under furniture or carpet edges. Hand made rugs are a favorite because it is easy for them to crawl underneath and do their damage from below. They will also crawl under moldings at the edges of rooms in search of darkened areas which hold good food.
The most common clothing moth is the Webbing Clothes Moth. It prefers moist conditions, although low humidity will merely slow development. Webbing Clothes Moths are small moths whose adults grow to between 1 and 2 cm. Their eggs are tiny, most being under 1 mm long and barely visible. A female will lay several hundred during her lifetime; egg placement is carefully chosen in locations where they will have the best chance for survival. The eggs are attached with a glue-like substance and can be quite difficult to remove. After the egg hatches, the larva will immediately look for food. Larvae can obtain their required food in less than two months, but if conditions are not favorable they will feed on and off for a long time. Whether it takes two months or two years, each larva will eventually spin a cocoon in which it will change into an adult. Larvae stay in these cocoons for between one and two months and then emerge as adults ready to mate and to lay eggs.
All of the above information came from Wikipedia, the free encyclopedia