Daddy Long Legs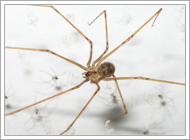 The Pholcidae are a spider family in the suborder Araneomorphae.
Some species, especially Pholcus phalangioides, are commonly called granddaddy long-legs spider, daddy long-legs spider, daddy long-legger, cellar spider, vibrating spider, or house spider. Confusion often arises because the name "daddy long-legs" is also applied to two distantly related arthropod groups: the harvestmen (which are arachnids but not spiders), and crane flies (which are insects).
Pholcids are fragile spiders, the body being 2–10 mm in length with legs which may be up to 50 mm long. Pholcus and Smeringopus have cylindrical abdomens and the eyes are arranged in two lateral groups of three and two smaller median contiguous eyes. Eight and six eyes both occur in this family. Spermophora has a small globose abdomen and its eyes are arranged in two groups of three and no median eyes. Pholcids are gray to brown with banding or chevron markings. The shape of the Pholcus and Smeringopus's body resembles that of a peanut shell.
All of the above information came from Wikipedia, the free encyclopedia