Allegheny Mound Ant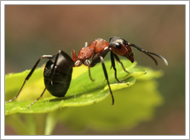 The Allegheny mound ant (Formica exsectoides) is a type of ant native to the Atlantic area of North America. Its range extends from Nova Scotia to parts of Georgia. Like other field ants, the Allegheny mound ant builds large mounds, however this species tends to build some of the largest. Aside from the mounds, the ants also act as pests by killing vegetation within 40 to 50 feet (15 m) of their mounds. The ants inject formic acid into surrounding plants, killing small trees and shrubs. The formic acid also gives the ants a distinctive lemony taste.[citation needed] The ants have red-orange head and thorax and black-brown gasters, often very striking appearance.
The ant's colonies are complex. Several different mounds may be interconnected. The tunnels may extend 3 feet (0.91 m) into the ground and 4 feet (1.2 m) upwards in the mound. The mound serves as a solar incubator for the eggs and larvae. Unlike most other ants, Allegheny mound ants have multiple queens. The ants have a lifespan of 2.5–3 months. They feed on dead insects and aphid honeydew.
The ants are somewhat aggressive and will bite if disturbed.
All of the above information came from Wikipedia, the free encyclopedia